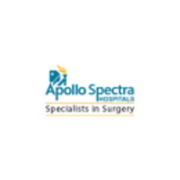 Apollo Spectra Hospital, Bangalore
Apollo Spectra Hospital
Apollo Spectra Hospital – Koramangala offers quality healthcare with all the benefits.
With a capacity of 20 beds, the hospital is committed to provide world-class medical services.
The hospital offers a wide range of surgical specialties including Orthopedics and Spine, Varicose Veins, Urology, Bariatric Surgery, ENT, General and laparoscopic Surgery, etc.
With world-class infrastructure and best doctors, the hospital uses advanced technologies to deliver personalized care for faster recovery with zero infection risk.
As a specialty hospital, Apollo Spectra gives you the advantage of expert and quality healthcare with all the benefits of a large hospital but in a friendlier, more accessible facility. This is what makes us unique.

With 17 centers across 12 cities – Bengaluru, Chennai, Delhi, Gurugram, Gwalior, Hyderabad, Jaipur, Kanpur, Mumbai, Noida, Patna, and Pune, over 2,50,000+ successful surgeries with excellent clinical outcomes, and over 2,300+ leading doctors, Apollo Spectra Hospitals continue to set new standards in healthcare services.

Advanced technologies, world-class infrastructure and the best of doctors all come together to deliver personalized care enabling faster recovery with near-zero infection risk. Our easy admission and discharge ensure a hassle-free experience for our patients. This is why patients across the country place their trust in us.