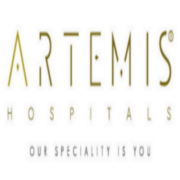 Artemis Hospital, Gurgaon
Artemis Hospital
Artemis Hospital, established in 2007, spread across 9 acres, is a 600 plus bed; state-of-the-art multi-speciality hospital located in Gurgaon, India. Artemis Hospital is the first JCI and NABH accredited Hospital in Gurgaon.
Designed as one of the most advanced hospitals in India, Artemis provides a depth of expertise in the spectrum of advanced medical & surgical interventions, comprehensive mix of inpatient and outpatient services. Artemis has put modern technology in the hands of renowned doctors from across the country and abroad to set new standards in healthcare. The medical practices and procedures followed in the hospital are research oriented and benchmarked against the best in the world. Top-notch services, in a warm, open patient centric environment, clubbed with affordability, has made us one of the most revered hospitals in the country.
Artemis Hospitals is the preferred healthcare destination for the employees of various businesses. They get access to quality healthcare with extra personal care, minimal formalities during admission and a variety of corporate offers. In order to ensure better health for employees & their families, Artemis Hospitals actively partners with various corporates by getting empanelled as their favored healthcare service provider.