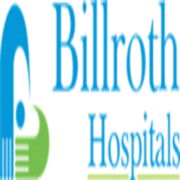 Billroth Hospital, Chennai
Billroth Hospital
Billroth hospital is a renowned hospital in Chennai.
It aims at providing standard health care with its world class facilities and infrastructure.
There state of art equipped technology and well qualified doctors and nurse practitioners contribute to the success of the institution by providing maximum care and support to the patients.
Critical care department of Billroth Hospital is highly on alert 24 hours critical care unit that is led by senior anaesthetists and physicians assisted by nurse practitioners, junior doctors, technicians, physiotherapists, nutritionists, radiology and imaging technicians.
Billroth hospital's department of Radiology and Imaging Sciences is one of the most advanced facilities in the country and on par with leading healthcare institutions.
National accreditation board for calibration and laboratories (NABL) has honoured Billroth Hospital for the excellent and sophisticated labs and lab services offered by them.
For the past 25 years, the hospital has exhibited some outstanding services that came at the right time to right people to serve them.
The hospital has tied up with some of the well-established NGOs to treat people for free. The reasons for such programs are to extend its maximum medical care to people of the country.
Billroth hospital conducts free medical camps in rural areas every weekend. These camps are attended by senior doctors and nurses providing maximum needful to the people of that region.