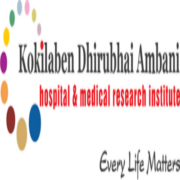 Kokilaben Dhirubhai Ambani Hospital, Mumbai
Kokilaben Dhirubhai Ambani Hospital
Kokilaben Dhirubhai Ambani Hospital, one of the most modern and state-of-the-art multi-specialty tertiary care hospitals, was launched in 2008 by Reliance Group.
The Hospital is accredited by the Joint Commission International (JCI) and the National Accreditation Board for Hospitals & Healthcare Providers (NABH) , College of American Pathology (CAP) Accreditation, USA, National Accreditation Board for Testing and Calibration Laboratories (NABL) Accreditation, India
Kokilaben is the only hospital in Mumbai with Full Time Specialist System (FTSS) ensuring easy availability and access to dedicated specialists exclusively attached to Kokilaben Dhirubhai Ambani Hospital.
Hospital uses Protocol and Care Pathway based treatment models to ensure the best outcomes for patients.
Kokilaben Hospital offers state-of-the-art, non-invasive treatment for a wide range of cancers and other potentially debilitating conditions, without harming nearby healthy tissue and without involving the traditional surgical procedure.
They are the first in India to have a 3-room Intra-operative MRI Suite (IMRIS), a diagnostic and imaging solution where the patient is never moved.
Novalis TX at Kokilaben Hospital is among the world's first whole radiosurgery systems for indications in the brain, liver, pancreas, prostate and lung.
Kokilaben Dhirubhai Ambani Hospital has set up 18 sophisticated cancer care centres.
Over 6300 complex cancer surgeries have been performed with excellent outcomes.
It is the only hospital India to perform the fastest 1000 Robotic Surgeries within 48 months of Launch.
Kokilaben Hospital has been awarded the smartest hospital building in India by Honeywell and the Times of India for its use of power consumption control, use of natural resources, worker safety, personal protection, indoor environment quality and control energy-efficient appliances and fixtures, uninterrupted power supply, fire detection and notification, as well as surveillance and intrusion.
In a all India survey undertaken by The Times of India, Kokilaben Dhirubhai Ambani Hospital has been ranked no. 1 in western India for Dermatology, Diabetology, Plastic/ Cosmetic Surgery and Trichology.
Hospital is visited by renowned doctors like Dr Tanu Singhal, Dr Jawahar Mansukhani and Dr Chaitali Ghandhi etc.
khushankhardworker@gmail.com