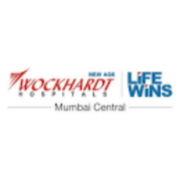 New Age Wockhardt Hospital, Mumbai
Wockhardt Hospital
New Age Wockhardt Hospital is in South Mumbai, the heart of the city's business district and was established in 2014.
It is a 21 storied tertiary care hospital.
It is the first fully wireless hospital in Asia.
It is the first hospital in India to have wireless ECG management systems, paperless ICU and GPS enabled ambulance systems.
New Age Wockhardt Hospital is also the first of its kind to equip ICCA system that enables anytime-anywhere patient data retrieval by the doctors.
Three medical institutes are incorporated in the hospital which are:

The Wockhardt Heart Institute
The Wockhardt Critical Care Institute
The Wockhardt Stroke Institute

Wockhardt Hospital is one of the tertiary, super specialty healthcare centers in India.
The chain of hospitals is owned by the parent company Wockhardt Limited which is India's 5th largest pharmaceutical and healthcare company
Wockhardt has its presence across the country with nine multispecialty hospital networks.
The group of hospitals is also associated with Partners Medical International (PMI), USA. They not only have access to PMI's expertise in surgery, medical services but also in project planning and developing hospitals.
khushankhardworker@gmail.com