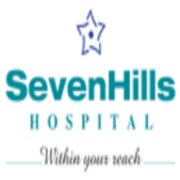 Seven Hills Hospital, Mumbai
Seven Hills Hospital
Established in 1986, Seven Hills Hospital is NABH, NABL and JCI accredited.
It has performed over 2000 Cardiac Surgeries, 2,719 Angiographies and 1,527 Angioplasties.
According to Limca Book Records, the hospital has attained the highest record of performing 19 Angioplasties & Angiographies on a single day.
It ranked the 7th Best Hospital in Mumbai by the The Week Magazine.
The hospital has 36 Centers of Excellence which includes Cardiac, Orthopedic, Oncology, Neurology, Cosmetics, Bone and Joint Care and Cancer Care.

To ensure accessible and affordable quality healthcare by compassionate medical professionals to all.

To be the centre of excellence for medical research and academics.

To cultivate an environment of trust, honesty, mutual respect, equality, and ethics.

To provide value added innovative, consistent, and continuously improving health and medical care to sustain and further improve clinical outcomes, patient safety, & patient satisfaction.