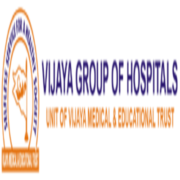 Vijaya Hospital, Chennai
Vijaya Hospital, Chennai
Established in 1972, Vijaya Hospital was one of the first multi-specialty hospitals in Chennai.
This NABL and NABH accredited hospital is part of Vijaya Medical and Educational Trust (VMET) which was formed by Sri. B. Nagi Reddi, a recipient of Dada Saheb Phalke award and founder of Vijaya Vauhini Studios.
The trust consists of Vijaya Eye Foundation, Vijaya Hospital (VH), Vijaya Heart Foundation (VHF), and Vijaya Health Centre (VHC).
Started in 1987, Vijaya Health Centre has performed more than 13,000 beating heart surgeries and performed more than 50,000 angio procedures.
In South India, Vijaya Health Centre is one of the largest center equipped with all advanced technologies and with all facilities available in the hospital.
Vijaya Institute of Trauma & Orthopedics was established as a specialized center for trauma & orthopedic services.
The hospital focuses on providing quality healthcare services at an affordable price and to treat patients with compassion and dedication.