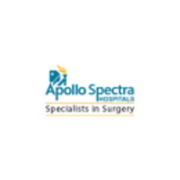 Apollo Spectra Hospital, Alwarpet, Chennai
Apollo Spectra Hospital, Alwarpet .
Established in 2016, Apollo Spectra Hospital is a multi-specialty hospital in Chennai with 22 beds and delivers affordable and effective medical services in a clean and secure environment.
Apollo Spectra Hospitals have 12 centers spread across 9 cities that are Bangalore, Chennai, Delhi, Jaipur, Kanpur, Mumbai, Hyderabad, Gwalior, and Pune.
Apollo Spectra hospital in Alwarpet – Chennai has the world's best infrastructure and provides international standards of healthcare and medical services to patients.
The medical staff is highly qualified, experienced and provides the best medical care to every patient.
The hospital offers several medical services such as Plastic and cosmetic surgery, Ophthalmology, Gynecology, General and orthopedic surgery, Pediatric surgery, ENT, etc.
The hospital has 24-hour services to provide quality healthcare in every healthcare department.