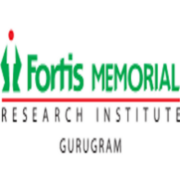 Fortis Memorial Research Institute, Gurgaon
Fortis Memorial Research Institute
Brand Fortis was established in 1996 and now has over 55 facilities in line to offer health facilities within India and abroad.
It is an NABH accredited multi-specialty tertiary care hospital.
Fortis Memorial Research Institute (FMRI) had ranked second in a global study of the 30 most technologically advanced hospitals in the world conducted by 'topmastersinhealthcare.com.
The Institute is known to be the 'Mecca of Healthcare' for Asia Pacific region.
Fields of expertise include Cardiac Sciences, Neurosciences, Emergency & Trauma, Bone & Joint, Renal Sciences, Gastro Sciences, Critical Care and Organ Transplants.

 Fortis offers a full spectrum of integrated healthcare services ranging from clinics to quaternary care facilities and a wide range of ancillary services.

To create a world-class integrated healthcare delivery system in India, entailing the finest medical skills combined with compassionate patient care.

To be a globally respected healthcare organisation known for Clinical Excellence and Distinctive Patient Care.
khushankhardworker@gmail.com