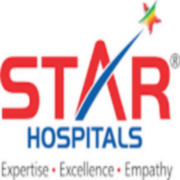 Star Hospitals, Hyderabad
Star Hospitals
Star hospitals are one of the most dedicated hospitals in Hyderabad, focusing their skills on patient care, scientific advancement and education. They have a team of expert physicians, nurses and other healthcare professionals who are dedicated to providing the highest standard of medical treatment. They have a full range of primary and Speciality healthcare services that enable cross-Speciality consultation. This level of commitment ensures comprehensive treatment for each patient.
Star hospitals have evolved into a center of excellence for several fields of medicine, providing seamless healthcare to people from all facets of society. They make their medical care accessible and affordable. They are proud to be known as a pioneer in the latest innovations across the medical landscape where they focus their efforts on innovative technology, advanced procedures and medical expertise. They are striving to meet the spectrum of needs coming from their patients. They are some of the best in diagnostics and treatment.
Star Hospitals is located at Banjara Hills, a strategic choice that allows for personalized and ethical care with a international standard infrastructure. Star hospitals was established by a team of renowned healthcare and medical specialists. It was based on a foundation of Empathy that helped serve its current position in its commitment to lifelong service to the community.
khushankhardworker@gmail.com